What is a Vacuum Jacketed Piping System?
Vacuum jacketed piping, also called VJ piping or vacuum-insulated piping, is used to transfer supercooled gasses in liquid form. Cryogens like liquid helium, liquid oxygen, and liquid nitrogen must be kept cold during the transfer process, or some of the liquid will become gaseous and leak out. Vacuum jacketed pipes are extremely efficient at maintaining the cold temperatures necessary to minimize this heat leak.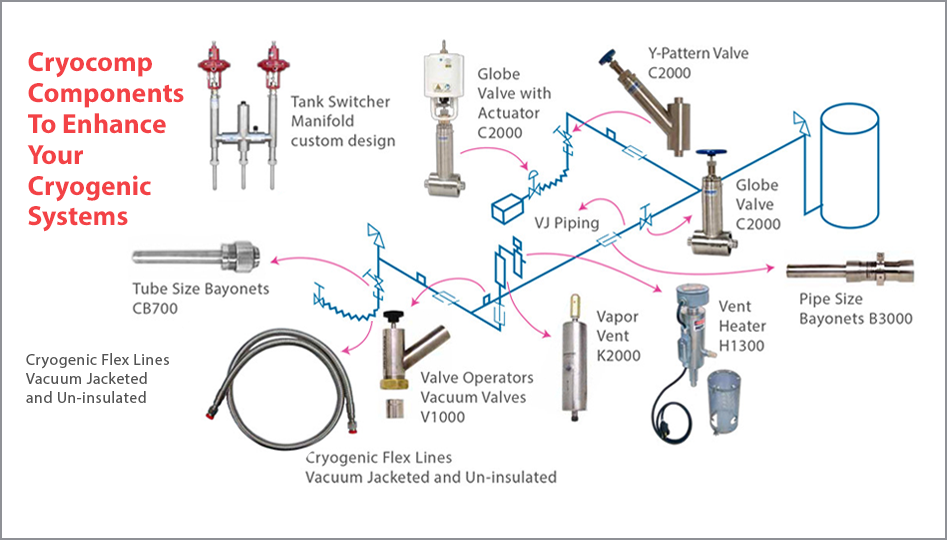 A well-designed vacuum jacketed piping system includes accessories to control the flow of liquids, make efficient connections, maintain the vacuum space, and vent vapor safely:
Vacuum Jacketed Pipe
Flexible Lines
Vacuum Jacketed Valves
Bayonet Connections
Vacuum Valves and Operators
Vapor Vents
Vapor Vent Heaters
Vacuum Jacketed Manifolds
Vacuum Jacketed Pipe (VJ Piping)
Vacuum jacketed pipe consists of an inner and an outer stainless-steel pipe. The inner pipe carries the cryogenic liquid. It is wrapped with multiple layers of super insulation made of alternating layers of a heat barrier and a non-conductive spacer. This creates a space between the two pipes that is "pumped down" using a vacuum pump to create a static vacuum shield. The vacuum shield protects cryogenic liquid from heat loss due to conduction, convection, and radiation. In addition to the superconducting insulation material, a getter material collects out-gassed molecules to further protect the vacuum.
The design and layout of each vacuum jacketed piping system is specific to the installation. The VJ piping is provided in vacuum sealed sections which are typically connected by cryogenic bayonets to form a continuous piping system that is uniform and efficient. This technique of utilizing cryogenic bayonets allows for ease of installation and overall system integrity.
See rigid VJ Piping on cryofab.com
Flexible Lines (Hose)
Cryocomp offers a large variety of stainless flexible metal hose for cryogenic transfer applications through its parent company, Cryofab, Inc. Flexible hose is an indispensable tool for the safe, efficient, and economical transfer of liquid gases. The product ranges from simple non-jacketed flex lines designed for most cryogens, to vacuum jacketed flex lines, required for the coldest gases such as liquid helium and hydrogen. Our materials of construction and techniques make these transfer tools usable in any type of work environment whether it is laboratory, industrial, instrumentation or fueling. Inside or out in the elements.
See flexible hose on cryofab.com
Vacuum Jacketed Valves
These cryogenic valves control the flow of the liquid gases through the entire VJ pipe system. The valves, with construction and materials similar to the VJ piping, are designed to be welded to the smaller flow pipe and the outer vacuum pipe. For more demanding control and "modulation" of liquids in the VJ pipe, Cryocomp can provide these valves with pneumatic actuators, digital positioners and other options to enhance the capabilities and performance. A digital positioner can provide communications capabilities which enable the end-user to remotely obtain additional data and control. Cryocomp offers valves in dimensions from .25" to 2.0" in globe, right angle or y-pattern configurations. Cryogenic valves are a critical component in VJ pipe systems.
Vacuum Valves and Valve Operators
In order to have an efficient vacuum system it is necessary to maintain a strong vacuum by evacuating the vacuum space with a vacuum seal off valve and the matching seal off valve operator. Cryocomp offers two series of vacuum seal off valves and valve operators.
The V1000 Series is a simple, inexpensive, and reliable option with valves and operators available in diameters from .25" to 3.00". They feature a compact design, vacuum tight connection, excellent conductance, and positive pressure relief. With an optional integrated port, a vacuum sensor (vacuum gauge) can be installed without drilling or welding onto the valve assembly. The basic weld-on installation and simple operation will reduce installation and evacuation time, improving vacuum reliability and reducing product cost.
The Cryocomp Series 2000 vacuum seal off valves and operators are designed for to evacuate large 2.0" and 3.0" diameter pipe systems, vessels, dewars, and some MRI applications. The unique design of the Series 2000 has high conductance, compact design, vacuum tight evacuation, and a spring-loaded poppet for pressure relief. The Series 2000 valve operators are designed to connect to the vacuum pump and engage the poppet on the seal-off valve. All Cryocomp vacuum valves can be provided with KF flanges in popular sizes to easily connect to the vacuum pump.
See all vacuum valves and operators
Cryogenic Bayonets
The bayonet is a mechanical joint that makes it easy to connect JV pipe and flex lines in the field while maintaining low heat leak. Cryocomp offers two bayonet configurations.
The Series CB700 is a tube sized high efficiency bayonet in four lengths, 3.0", 6.0", 9.0" and 15". These bayonets have a threaded connection nut to for easy connection and separation. A close tolerance seal maximizes efficiency and a silicone O-ring seal assures tight sealing at cryogenic temperatures. The Series CB700 bayonets operate efficiently in a vertical or a horizontal orientation and are recommended for use with most cryogenic fluids including nitrogen, oxygen (with proper cleaning), argon, and helium.
The Cryocomp Series B3000 bayonet is a high efficiency tube and pipe connection for vacuum jacketed transfer lines and vacuum jacketed piping systems. The B3000 Series bayonets offer low heat leak and quick field installation. The B3000 assemblies range from .5" tube to 1.0" pipe with a 150 PSI MAWP (Maximum Allowable Working Pressure). They are designed with an extremely close fit between the male and female assemblies to establish a gas pocket (vapor lock). This forms a seal, which is process stream temperature at one end and ambient temperature at the other. The very small gas pocket and close machining tolerances contribute to the high efficiency of the design. The B3000 Series is ideal for frost-free transfers, minimizing heat leak and easy disassembly.
Cryogenic bayonets are a practical and effective means to make a de-mountable connections between sections of vacuum jacketed pipe systems and other applications.
Vapor Vents and Vent Heaters
A cryo vent (also called a keep-full or vapor vent) keeps liquid flowing in a vacuum jacketed pipe system by allowing the boil-off of gases to escape, but not the liquid. Vapor vent heaters warm the exhaust gas to eliminate condensation and ice build-up on piping and fixtures. The vent heaters are typically used in conjunction with the vapor vents as the warmed gas exhaust from the heater is routed through the vent and ducted to a safe area.
Vapor Vents: Cryocomp K2000 Series vapor vents are vacuum jacketed for thermal protection and feature an internal "float device" to capture and release gas molecules. The K2041 is installed utilizing a .5" NPT connection and the K2942 interfaces uses a CB700 bayonet connection. Cryocomp vapor vents are specifically designed to be installed into liquid nitrogen systems.
Vapor Vent Heaters: These electrical devices increase the temperature of the cryogen and expel its vapor. The gas / liquid mixture enters the vent / heater assembly where the mixture is vaporized and vented to a safe area.
Cryocomp offers vapor vent heaters in 110 VAC or 220 VAC configurations. The model H1300 has a 375-watt heater and the H1500 has a 500-watt heater.
Cryocomp strongly recommends the purchase of the optional system heater guard assembly to protect personnel from the hot external surface of the device.
Vacuum Jacketed Manifolds
For specialized vacuum insulated piping systems, any number of manual or actuated valves may be incorporated into a single manifold device. Any necessary tees, elbows, expansion joints, flexible connectors, and instrumentation can also be included in the manifold design.
See examples of custom manifolds
About Cryocomp
Cryocomp, a subsidiary of Cryofab, offers the specialized valves and accessories you need to guarantee a reliable, efficient, long-life cryogenic piping system. Our valves, bayonets, evacuation components, and vapor vents are designed and fabricated to the highest standards.
Your satisfaction is our guarantee