Keepfull/Cryo Vents K2041 and K2042
Cryo vents (also called vapor vents or keepfulls) with 1/2" male connection for vacuum-jacketed pipe systems
K2041:
Vacuum Insulated
Liquid Level Keepfull
1/2" Male Pipe Connection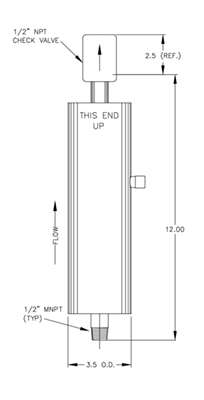 K2042:
Vacuum Insulated Liquid Level Keepfull
1/2" Male Bayonet Connection Mating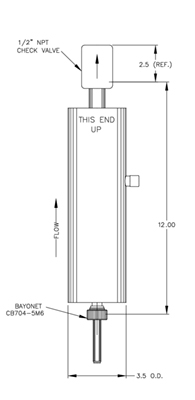 Cryocomp offers the vacuum insulated cryo vent (also called keepfull and vapor vent and a host of other names) in two versions, the K2041 with a 1/2" pipe inlet and the K2042 with a 1/2" tube-style bayonet inlet. The pipe inlet design can be installed in any liquid nitrogen system and the bayonet design can be designed into a vacuum insulated piping system for a more efficient interface. The Cryocomp cryo vent is a fully mechanical system requiring no electrical or pressure assistance.
Installation Notes: The purpose of a cryo vent is to vent vapor and keep liquid close to the point of use/outlet. Cryo vents discharge boil-off gas and maintain liquid at some place in the system usually far away from the liquid supply. These devices must be vertical, above the pipe section and should be installed at a high point where gas would gather in the system.
Technical Data
150 PSIG MAWP, 225 PSIG Proof Pressure.
Use In Liquid Nitrogen Service Only.
Capacity: Approx. 1000 BTU/hr.
Install In Vertical Position Only.
Check Valve on Top.
Vapor Vent Should Be Located At The High Point Of The Piping System.
Mechanical Float-Valve, No Electrical Or Pneumatic Source Required.
Model K2041: 1/2" NPT Connection Fitting.
Model K2042: 1/2" x 6" CBT Bayonet Fitting.
Applications
Maintain Liquid Level In Vacuum Insulated Piping Systems and Containers
Pipe Inlet Allows Easy Addition To Any Liquid Nitrogen System
Product Sheet

Instructions

For more information contact sales@cryocomp.com


For more information: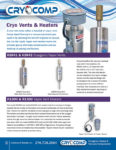 Download Cryocomp Cryo Vents & Heaters Brochure