Line:
Vapor Vents and Heaters
A cryo vent (also called a keepfull or vapor vent) keeps liquid flowing in a vacuum-jacketed pipe system by allowing the boil-off of gases to escape, but not the liquid. Vapor vent heaters warm the exhaust gas to eliminate condensation and ice build-up on piping and fixtures.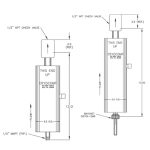 Cryocomp's keepfull/cryo vent keeps cryogenic liquid ready to use by allowing gas vapor to escape. Pipe or bayonet connections.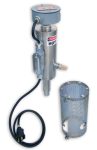 375-watt heater eliminates condensation and ice on piping when installed on the outlet of any mechanical vapor vent.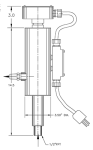 500-watt heater stops ice formation and prevents condensate on floor and ceiling tiles by warming the exhaust gas.