Vacuum Valves V2000 Series Seal-off Valve
Spring-loaded Valve for Evacuation Entry Into Any Large Vacuum System
The V2000 vacuum seal-off valve is a high conductance, compact and highly reliable means of providing an evacuation entry into any large 2" vacuum system including cryogenic tanks, dewars, vacuum-insulated piping and MRI magnet vacuum containers. The valve incorporates a spring-loaded poppet which provides relief in the event of an overpressure, protecting an inner vessel or neck seal. The poppet and spring assembly is installed after the body is welded to the vacuum space.
The V2000 is used with a valve operator to connect to a vacuum pump and is removed after the evacuation process is finished. The valve operator stem engages the poppet and the handle is toggled up to pull the poppet open and begin the evacuation. After the evacuation is complete, the handle is toggled down and the poppet re-seats providing a vacuum tight seal. The stem is then disengaged from the poppet and the valve operator is removed to complete the operation.
2" size spring-loaded vacuum seal-off valve V2165-10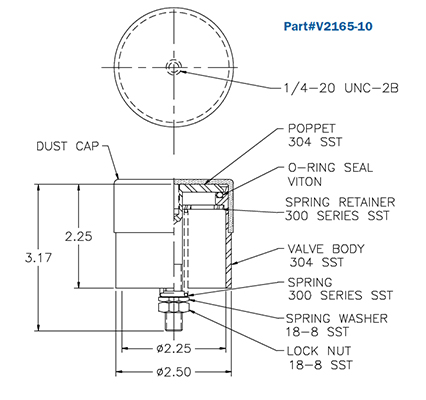 Product Sheet
Technical Data
Vacuum Leak Tested @ 1 X 10 -5 TORR Leak Rate Less Than 1 X 10 -9 SCC GHe/SEC
Relief Pressure 2-6 PSIG.
Uses Valve Operator P/N V2165-20. Optional V2165-30-50 with KF-50 outlet flange.
TC Vacuum Tube Port Available – P/N V2165-11
CONNECTION: Weld jacket is standard. Thread and KF/NW flange connections available on special request.
Applications
Cryogenic Tanks and Dewars
Vacuum Insulated Piping
MRI Magnet Vacuum Containers
Part Numbers
---
Valve Size - 2"
Material: Stainless Steel
---
For more information contact sales@cryocomp.com